The festive season brings with it countless joy, family events and their preparation. A festival as significant as Diwali, is accompanied by events, parties and family visits- all of which are events which take place in the home. This naturally makes it a necessity to ensure that our living spaces look clean and attractive. This is a gap which can successfully be covered by facility management.
The demand and presence of facility management and related services has grown immensely in the last decade. Citizens have started understanding the value of services provided by an organized company, as opposed to by informal contractors. Most companies have now extended their purview of services to include housekeeping services- an important element when it comes to Diwali preparations. Here are some of the ways in which having a facility management on board can be a huge boon for homes and housing societies-
1. Reduction in stress for all involved
In the case of large amounts of work, it's always a good practice to delegate tasks to different people. At an individual householdlevel, this could mean dividing responsibilities between different members of the family so the work can wrap up sooner. Meanwhile, at a residential complex level, this can mean outsourcing important facility management tasks to an integrated facility management company, which can reduce the pressure of handling the upkeep of such large areas.
Such companies ensure that the different requirements within a housing society are seamlessly met- such as elevator maintenance, visitor management, water and electricity supply, as well as landscaping in surrounding areas. In this sense, housing societies benefit quite a bit from delegating these tasks to a professional team of facility managers.
While these teams take good care of the areas surrounding our homes, it is important to keep in mind that the spirit of Diwali revolves around giving to others. This can manifest in very simple ways- such as by taking small steps to make the lives of others a lot less stressful. As residents, we can do this by ensuring that we check our ACs and heaters frequently, as opposed to making last minute calls to servicing professionals on the day of Diwali. Similarly, it helps to inform the security personnel in advance about the guests we may be expecting or entering these details into the housing security app so that we make parking management easier for them.
2. Maintenance and Management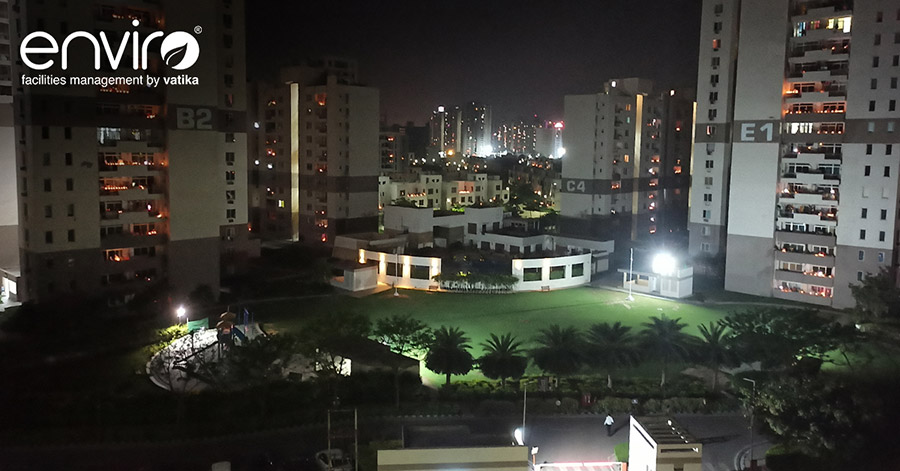 The festive season is a time for change and new beginnings. While any home requires constant upkeep throughout the year, it is during Diwali we want to put our best foot forward and allow our houses to shine.
In a similar manner, maintenance is an essential component of any housing complex, year after year. A dedicated facility management team can make a world of difference and can even help increase the lifespan of such areas. This can include repairs, timely quality checks, housekeeping services and ensuring that residential spaces are well taken care of.
As residents, we can also play a vital role in supporting such maintenance activities. Waste management is an important process at residential locations and an activity wherein change truly begins with one household. In other words, one can help by segregating our waste at source and sustainably managing the larger quantities of waste generated after group get-togethers. It is also equally important to be conscious of our electricity consumption, which often amps up during the festive season. No matter the time of the year, environmental consciousness should still remain one of our priorities as residents. Such micro-level monitoring of facilities adds up and makes a substantial difference for the overall area.
3. Deep Cleaning
Diwali brings with it a concentrated effort at deep cleaning entire homes in time for the festival's arrival. This type of cleaning is in fact, markedly different from regular cleaning that happens on a daily basis. Deep cleaning effectively targets accumulated dirt and grime in hard-to-reach corners of your house and is the ideal solution for curbing the spread of harmful bacteria. Facility management companies also provide housekeeping services under their purview, making this vital activity a lot easier for families. For instance, Enviro has a separate app through which a team of expert cleaners can be arranged at your doorstep- called the Enviro Home Services app. In this manner, integrated facility management services can be arranged with considerable ease by customers, at their own disposal. Another way we can contribute here is by booking our pest control appointments well in advance, so as to avoid any last-minute hassles and be reassured that our homes are truly clean.
While deep cleaning is a team activity that typically takes place during this time of the year, it is also equally important that this happens across the larger housing society as well. Housekeeping services extend across the entire area and are carried out with the same fervour in common areas such as elevators, lobbies, and outdoor spaces too. They ensure that residents are able to navigate all aspects of their housing society with ease and reassurance.
4. The PDCA Cycle – Plan-Do-Check-Act
ThePlan-Do-Check-Act Cycle is an important quality control model and the process behind planning the inspection of areas by facility management companies. An alternative but simple way of understanding it is to compare it to the process of planning out Diwali cleaning in homes.
The 4 steps of this model take place as follows-
. Plan- Establishing the objectives and priorities for the overall activity
. Do- After clearly setting the objectives, a detailed plan is crafted to plan the inspection of different areas. During this stage, teams are assigned area-wise, the areas to be observed are specified, with all the information carefully recorded in an inspection software application.
. Check- After the thorough inspection is wrapped up, the data goes into review in the form of a data audit.
. Act- Based on all the information gathered, it is always a good idea to come up with alternative solutions or ideas on how to carry out the inspection more efficiently the next time around.
A detailed safety audit leaves both, residents and facility management teams at ease.
As is evident, housekeeping is a multi-pronged effort and requires commitment on the part of residents as well as facility management teams. In the long run, however, regular housekeeping ensures the longevity of certain resources and areas and keeps them disease-free. This Diwali, make a commitment to keeping your homes clean and prosperous, along with helping others around you enjoy their festival too.