Last year, NEC Contracts released a new set of contracts specifically designed for the procurement of facilities management services. NEC worked with the Institute of Workplace and Facilities Management (IWFM) to develop the contracts, ensuring that they demonstrate and encourage best practice in the sector. The suite contains four contracts, six user guides and two flow charts. The contracts are suitable for "total FM" and single or multiple supplier FM contracts.
As with all NEC4 contracts, they are based on three core principles – ensuring they work to support good relationships between all parties; they can be used in a variety of commercial situations and locations; and they are written in clear, simple terms. The contracts are accessible and use recognisable terminology and processes. Practitioners can easily pick up a contract and use it, but some understanding of NEC will help, for which there are supporting materials and training available.
Background
As with many client/contractor industries, the facilities management sector can suffer from contract disputes, inconsistencies and adversarial contracting and procurement strategies. Additionally, with such a vast and diverse sector, there are varying levels of experience in the procurement and management of contracts. The NEC4 Facilities Management Contract represents the first up-to-date standard form of contract for the facilities management sector.
The use of this contract offers the opportunity to simplify and streamline the procurement process which can be troubled by inefficiencies. Adopting a common form of contract will strengthen the sector's standing and raise confidence in delivery. It also offers the opportunity to mitigate risk as the contracts are designed to allocate risks to those best placed to manage them. The NEC4 Facilities Management Contracts embed processes to ensure that the parties co-operate to identify and manage problems as they arise.
Flexibility
There is a growing trend towards larger, often integrated, longer term agreements in the public and private sectors. These contracts are believed to encourage better relationships, drive innovation and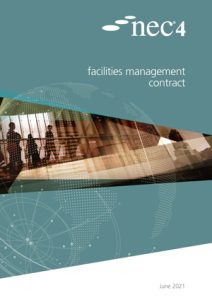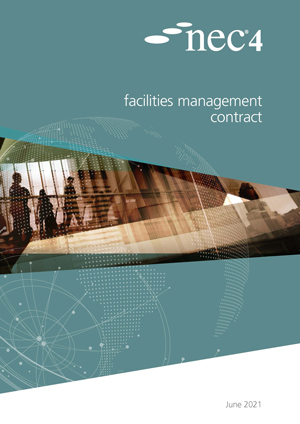 encourage investment. Given the nature of these agreements and the complexities associated with larger contracts, understanding roles and responsibilities becomes vital in promoting transparency and good management practices. Challenges can arise from the sheer range of services required and any standard contract covering these projects must be extremely flexible.
Procurement contracts also need to be flexible with industry changes. Procurement strategies need to take into account the impacts of COVID, with enhanced cleaning requirements and reduced building occupation. Legal changes, such as National Living Wage, also need to be allowed for within the contract clauses. Implementing the Living Wage in NEC4 contracts is covered in a separate Practice Note.
The NEC format is already designed with flexibility built in. Processes such as early warning notices and compensation events give parties the ability to flex and change. While these practices may not be extensively used within the FM industry currently, they are supported by comprehensive explanations in the user guides and further training is available.
Collaboration
The new contracts are a great step in enabling the facilities management sector to offer more integrated and consistent procurement strategies, add value to the supply chain and develop stronger, more collaborative relationships. Uniquely, every NEC4 contract states that parties are required to "act in a spirit of mutual trust and co-operation". This differentiates NEC from traditional contracts which follow an adversarial "us and them" approach.
To move towards improved efficiency, it is vital that the facilities management sector pushes the ethos of these client/contractor relationships towards partnerships or at least common objectives. This can only happen with transparency and trust being embedded as part of the procurement and project management processes.
Additionally, the need for greener growth within the built environment sector makes collaboration even more important. Across the whole supply chain, a concerted effort will be required to kick-start sustainability efforts. NEC has also recently released a new secondary Option clause, X29, which is designed to support climate change reduction aims and enable clients to engage their suppliers to drive towards net zero.
Social Value
NEC, IWFM and the Social Value Portal have also issued a practice note to accompany the NEC4 Facilities Management Contracts which highlights the importance of Social Value in UK public sector contracts. Social Value is now mandatory in Central Government procurements with a minimum 10% weighting requirement. Crucially, it is important to consider how facilities can create Social Value through the life cycle and how FM professionals have an important role to play in delivering benefits to local communities and wider sustainability objectives. The NEC Facilities Management Contracts offer Clients the option to detail their Social Value requirements, measures and/or targets.
Conclusion
As the facilities management industry becomes more open to change and eager to adapt to new ways of working, the NEC4 Facilities Management Contracts offer an opportunity to drive efficiency and best practice in procurement. With a foundation in delivering flexibility and collaboration through project management practices, the new contracts aim to improve the procurement and delivery processes.
More information about the NEC4 Facilities Management Contracts is available on the NEC website – neccontract.com/fm


– ends –
To have your industry news published in the pages of FMJ's news section, Month in FM, and here online on fmj.co.uk, please send your news and image to Danny Grange danny.grange@kpmmedia.co.uk
The view or information contained within these unedited press releases, are that of the company producing it and not necessary the views of kpm.