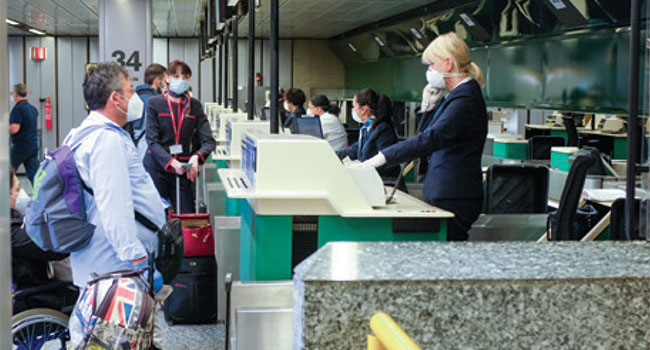 Devastating Impact
Airports look to video technology to do more with less in the face of devastating pandemic
By Jake Cmarada
Jun 01, 2021
What a difference a
year can make. The
COVID-19 outbreak
has hit airports hard,
and the devastating
impact will be felt for years to come. The
situation is worrisome not only for the
sake of the industry itself but also because
airports and air transportation services
are critical to the economic stability and
growth of cities, regions and countries. The
safe, efficient, readily-available transportation
of people and goods worldwide benefit
nearly all aspects of modern life.
According to preliminary data filed
with the Bureau of Transportation Statics
(BTS), U.S. airlines carried 96% fewer
scheduled service passengers in April 2020
than in April 2019 — the largest year-toyear
decrease on record. The large airlines
carried just 3 million passengers in April,
the lowest monthly total in BTS records
dating back to the previous low of 14.6
million passengers in February 1975.
This unprecedented drop in passengers
adds up to real money. A recent CNN
Business news article states that U.S. airlines
reported combined losses of $12
billion in the second quarter of 2020 as
revenue plunged 86% from the prior year.
Analysts forecast that losses will come to
about $10 billion in the third quarter of
2020. At the end of 2020, COVID cases
were spiking and a new wave of lockdowns
hitting many states. The turnaround for
the airline industry seems to be underway,
thanks in part to a vaccine that has become
widely available.
THE EVOLVED ROLE
OF VIDEO SURVEILLANCE
Traditionally, video surveillance within
an airport focused on safety and security
for the facility and travelers alike. Often
the focus was on assuring in real-time that
runways, gates and terminals were clear,
safe and operational. Much of a system's
recorded video played a role in resolving
liability issues or assisting with theft or
damage investigations.
Over the years, as surveillance systems
became smarter, less expensive, and easier
to use — especially with the migration
of video surveillance to standard IP networks
— the use of video at airports expanded
greatly.
This article originally appeared in the May June 2021 issue of Security Today.


Read More: Devastating Impact — Security Today