Facility Manager Cost Saving/Best Practice Quick Reads    RSS Feed
 May 6, 2021 –
Contact FacilitiesNet Editorial Staff »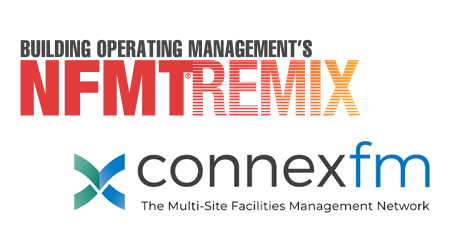 Trade Press Media Group and ConnexFM are pleased to announce that National Facilities Management & Technology – NFMT Remix Conference and Expo and ConnexionFM | Orlando will be held in conjunction with each other. Both events will be held jointly at the Orange County Convention Center in November. NFMT Remix will be held November 10 and 11 while Connexion FM | Orlando will be held November 11 and 12. The two organizations will host joint educational events the afternoon of November 11. Facilities professionals can attend either or both events at no cost.
"As the leading multi-site facilities management association, ConnexFM is the perfect complement to NFMT Remix, said Jill McDermott, Deputy General Manager, Senior Vice President of Sales and Marketing for Trade Press Media Group. "Together we can provide facility management professionals with more education, more product solutions, and greater resources. All for free. FMs have a clear and easy choice when it comes to choosing an FM conference to attend in 2021."
"The Connex Team recognized NFMT's Remix Conference as an outstanding opportunity for Connex stakeholders to expand their business opportunities and professional development. During these uncertain times, partnering with allied organizations facilitates better connections and delivers a competitive advantage to event attendees. The NFMT Team has been wonderful to work with and attendees should expect to experience a world-class event this November," said Bill Yanek, CEO, ConnexFM.
NFMT Remix and ConnexionFM | Orlando will both include robust educational agendas that address the changes in facilities management over the past few years. Topics include space management changes, work technologies for remote FM teams, stakeholder communications, infection control strategies, and meeting maintenance expectations during reduced occupancy. "Education, training, and product discovery are the lifeblood of the industry," says Trade Press Media Group Director of Events and Education Amy Brown. "Proper training and education can empower facilities professionals to learn, grow and succeed in our new environment. Trade Press Media Group and ConnexFM are committed to elevating the standards of professionalism in the facilities industry, and the education sessions at NFMT Remix and ConnexFM will deliver on that commitment."
In addition to the free education, facilities professionals will see the latest products and technologies in the NFMT Remix Expo Hall. "A number of industry leading suppliers have reserved space and are looking forward to connecting with facilities managers in person," remarked McDermott. "We're pleased that NFMT Remix is bringing the industry together and showcasing the newest products for FMs to see, touch and try out."
Both NFMT Remix and ConnexionFM | Orlando will be conducted with protocols in place to provide the highest levels of hygiene and safety for everyone. "The health and safety of our attendees, exhibitors, speakers, employees, and convention center staff is our top priority," said McDermott. "We are fortunate to be holding our events at the Orange County Convention Center. They have hosted more than 50 events since reopening their doors in July of 2020 without a single COVID-19 outbreak. Their high-end cleaning technology and emphasis on cleaning and hygiene align perfectly with our commitment to providing our show participants with a safe, healthy event."
For more information on attending or exhibiting at NFMT Remix, go to nfmt.com/remix.
---
Comments
(function(d, s, id) {
var js, fjs = d.getElementsByTagName(s)[0];
if (d.getElementById(id)) return;
js = d.createElement(s); js.id = id;
js.src = "https://connect.facebook.net/en_US/sdk.js#xfbml=1&version=v2.10&appId=473360332716682";
fjs.parentNode.insertBefore(js, fjs);
}(document, 'script', 'facebook-jssdk'));
!function(f,b,e,v,n,t,s)
{if(f.fbq)return;n=f.fbq=function(){n.callMethod?
n.callMethod.apply(n,arguments):n.queue.push(arguments)};
if(!f._fbq)f._fbq=n;n.push=n;n.loaded=!0;n.version='2.0′;
n.queue=[];t=b.createElement(e);t.async=!0;
t.src=v;s=b.getElementsByTagName(e)[0];
s.parentNode.insertBefore(t,s)}(window, document,'script',
'https://connect.facebook.net/en_US/fbevents.js');
fbq('init', '1544672755850634');
fbq('track', 'PageView');


Read More: NFMT Remix and ConnexFM Announce 2021 Partnership