Thursday evening Rye Guy and Westchester County Executive George Latimer delivered his fourth State of the County Address in the Legislative Chambers of the Board of Legislators. Here is a transcript and full video of his speech:
Good Evening.
Tonight marks the fourth year that I have presented to you on the State of Westchester County, an event returned here to the People's Chamber, before your Honorable Board of Legislators and the viewing public. Much has changed from year one – much has changed since year three.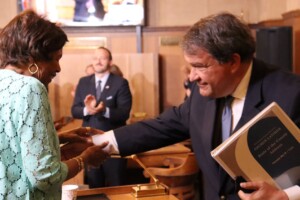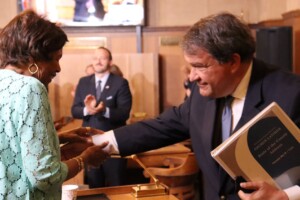 Just this past October, I stood here before you, and we were all at the mercy of COVID-19. We were bending and twisting trying to conform our lives to this deadly and destructive illness.  But today, seven months later, look at us – look at us, through sacrifice and discipline, vaccinated and fighting back.
We have a long way to go my friends; we still aren't fully back, but ladies and gentlemen we are getting there – and we are united.
When the men and women who came before us built this great chamber, they didn't know exactly the hardships we would face – but they knew – maybe we all knew, they would come one day. The grandness of this room and what it stands for – the people's chamber – still astounds me – Chairman Ben Boykin and members of this Board, thank you for your leadership during this very difficult time.
On a separate occasion standing here, I stated that the author Tom Wolfe was wrong when he wrote, you can't go home again – because you can.  This chamber is home to me, and this County will always be home to me – and I thank you Chairman Boykin for always making me feel right at home.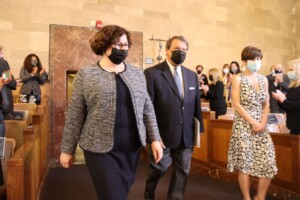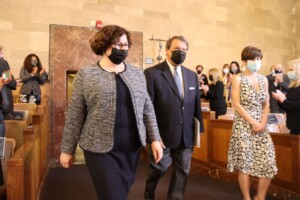 I want to recognize those who serve us so well: our County Clerk Tim Idoni, District Attorney Mimi Rocah, former County Executive Andy Spano, Former Chairman of the Board of Legislators the legendary Herman Geist, and other elected officials – I thank you for your friendship and your willingness to work together.
To my executive team, including my senior team – Deputy County Executive Ken Jenkins, Director of Operations Joan McDonald, County Attorney John Nonna, Director of Communications Catherine Cioffi, Director of Intergovernmental Relations Steve Bass, my Chief of Staff Andrew Ferris and my Deputy Director of Operations Emily Saltzman – thank you for standing with me for these past almost four years.
May I also take some pride in the many former Legislators who now serve in this Administration: Mike Kaplowitz, Jim Maisano, Richard Wishnie, Clinton Young, and many more on Boards and Commissions like Marty Rogowsky. This is the common purpose we share as legislators and executives.
Some days… it feels like we just started, and other days… well other days are other days.
I want to publicly thank the incredible 4,000 plus County Employees for their dedication to each other and the people of this County.  You have worked tirelessly – first during a lockdown, and then as we began to open up, you volunteered at vaccine clinics to get our people vaccinated!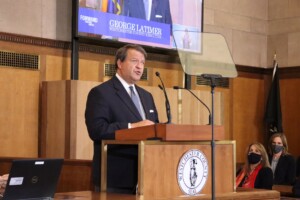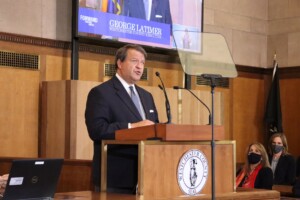 Some of you tonight are watching this at home on News 12 or on Facebook Live, or you are tuning in to the County's webpage. To you I say thank you – thank you for being an active, engaged citizen, a part of this amazing County. Thank you for putting your faith in us – and most importantly, throughout this pandemic, your faith in science.
President Harry Truman once said, "America was built on courage — on imagination and unbeatable determination — to do the job at hand." Friends and colleagues, I'm here to tell you tonight I am here to do the job at hand, you are here to do the job at hand and together, united – we will do the job at hand. Because, we are the State of our County – and we are united to move forward.
Watch this short video, "Working to Move Forward."
Our Administration gave you a bit of a sneak peak of this speech last week, just a taste of what the 2022 budget will be like. The Department of Budget forecasts a $16 million dollar increase in the County's general fund balance for the 2021 fiscal year. The increase will bring the unrestricted fund balance to over $200 million dollars at the end of 2021– the largest in the County's history.
Now this is all still a projection, with variables ahead – but clearly a very good one and one that drastically changes our economic forecast.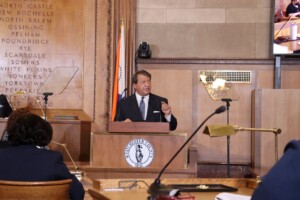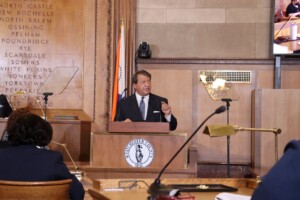 We had to make hard financial decisions and we faced difficult financial times, but we made smart choices with federal dollars that not only saved the County money, but also provided essential services for the public when they needed it the most. We supported efforts to combat food insecurity, supported small businesses and remote learning centers for children.
I want to be clear – this is how government is supposed to work. This is good government. We have worked every day for you, and I mean that. During this pandemic, many of our Westchester neighbors struggled mightily to survive. I know what it is like to struggle; I know what it is like to have mom and dad worried at the kitchen table about bills. I know because I have lived it.
That is why it was so important to me, in the midst of a crippling pandemic, to keep the promise I made to you two years ago. We cut County property taxes for the second year in a row this year but we didn't stop there. I signed the 2021 budget not only cutting taxes, but also maintaining County services, and cutting expenditures by $15.7 million dollars. We maintained our commitment to our workers and their families – no furloughs, no layoffs. We extended our deadline dates for property taxpayers last year, to give them some breathing room.
So let me be clear – anyone who says County taxes are up, people are fleeing Westchester, is peddling fiction, running the rumor mill and trying to sell you what they call "common sense" – when it is in fact pure nonsense.
We cut County property taxes for the second year in a row this year – and you know who we did it for – we did that for that mom and dad sitting at the kitchen table.
Watch this short video, "At Home with the Parker Family."
We can't make promises, but if projections hold true, we will be able to continue our tax policy and cut County property taxes again next year, for the third straight year.
I promised you I would clean up this County, fix what was broken and neglected, and I promised you I would always do right by you – so I want to thank you for having faith.
The 2021 Budget also included:
$5 million dollars for Economic Development Programs
$5 million dollars for Housing Assistance Programs
$2 million dollars for Food Insecurity
$1 million dollars for the Emergency Services Response
Before entering 2021, the 2020 budget year closed – let me repeat – with no layoffs, no furloughs, no service cuts – and – no borrowing for pension costs.
Fiscally sound policies.
We also wanted to do more to help those who have served us. I've submitted legislation raising the Veterans Real Property Tax Exemption caps to up to $75 thousand dollars for all veterans, up to $50 thousand dollars additionally for veterans who fought in a Combat Zone of Operations, and up to $250 thousand dollars for service-disabled veterans. Because, providing this tax relief for the brave men and women in our community who fought to protect our nation and all it stands for — is a small gesture with a real impact.
We were focused on our finances and on your finances, but we were also focused on your health – very literally.
Here in Westchester County we started vaccinating on January 5, and that day we started with ten Department of Health staff members at our clinic just down the block from here in White Plains.  We were learning and teaching each other how to vaccinate for COVID-19. From that moment it has been nonstop. Today, from all sources, we have vaccinated 552,214 people in Westchester County.
There are workers out…


Read More: Rye Guy Latimer: County Address Transcript & Video