Despite new CDC guidelines, now's not the time to make reductions in your cleaning programs.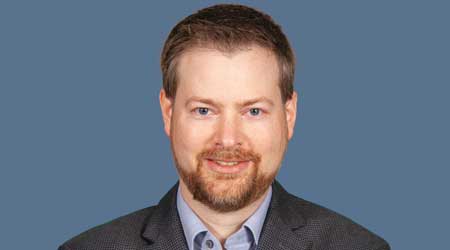 The Centers for Disease Control and Prevention (CDC) recently came out with revised guidelines related to coronavirus transmission on surfaces. The CDC finds the risk of infection from touching surfaces to be low compared to direct contact, droplet transmission or airborne transmission. As a result, the CDC now recommends daily cleaning only. Frequent disinfecting is only suggested if there is high transmission of COVID-19 in the community or occupants are not wearing masks or washing hands often. 
Despite these guidelines, I'd caution facility managers from making reductions in their cleaning programs. Cleaning frequencies were likely too low prior to the pandemic and any increases you made brought you closer to what you should have been doing already. 
As employees return to the office, they may social distance at first. But eventually, we will return to normal and occupants will be collaborating, socializing, and touching everything from the door handle to the elevator button to the coffee pot. Pandemic or not, viruses will continue to plague facilities, living on surfaces from days to weeks. Without proper and frequent disinfecting, occupants will get sick — and that costs facilities money. Sick employees (both those who are absent and who come to the office sick) cost the U.S. economy $227 billion each year because of lost productivity.  
As we transition from the pandemic to the "new normal," re-examine your cleaning priorities. Talk to your in-house cleaning manager or building service contractor to make sure spaces are cleaned and disinfected often enough to keep occupants healthy. If you need to offset these costs, there are likely cuts that can be made in other areas, such as spot cleaning windows and entryways — essentially, anywhere you are cleaning for appearance. Keep up the best practices learned during the pandemic and put the focus on health, rather than shiny surfaces. 
Dan Weltin
Editor-in-Chief, Facility Market
---
---
---
Related Topics:
Comments
(function(d, s, id) {
var js, fjs = d.getElementsByTagName(s)[0];
if (d.getElementById(id)) return;
js = d.createElement(s); js.id = id;
js.src = "https://connect.facebook.net/en_US/sdk.js#xfbml=1&version=v2.10&appId=473360332716682";
fjs.parentNode.insertBefore(js, fjs);
}(document, 'script', 'facebook-jssdk'));
!function(f,b,e,v,n,t,s)
{if(f.fbq)return;n=f.fbq=function(){n.callMethod?
n.callMethod.apply(n,arguments):n.queue.push(arguments)};
if(!f._fbq)f._fbq=n;n.push=n;n.loaded=!0;n.version='2.0′;
n.queue=[];t=b.createElement(e);t.async=!0;
t.src=v;s=b.getElementsByTagName(e)[0];
s.parentNode.insertBefore(t,s)}(window, document,'script',
'https://connect.facebook.net/en_US/fbevents.js');
fbq('init', '1544672755850634');
fbq('track', 'PageView');


Read More: Stay the Course with Disinfecting